LIU BOLIN IS CONFUSED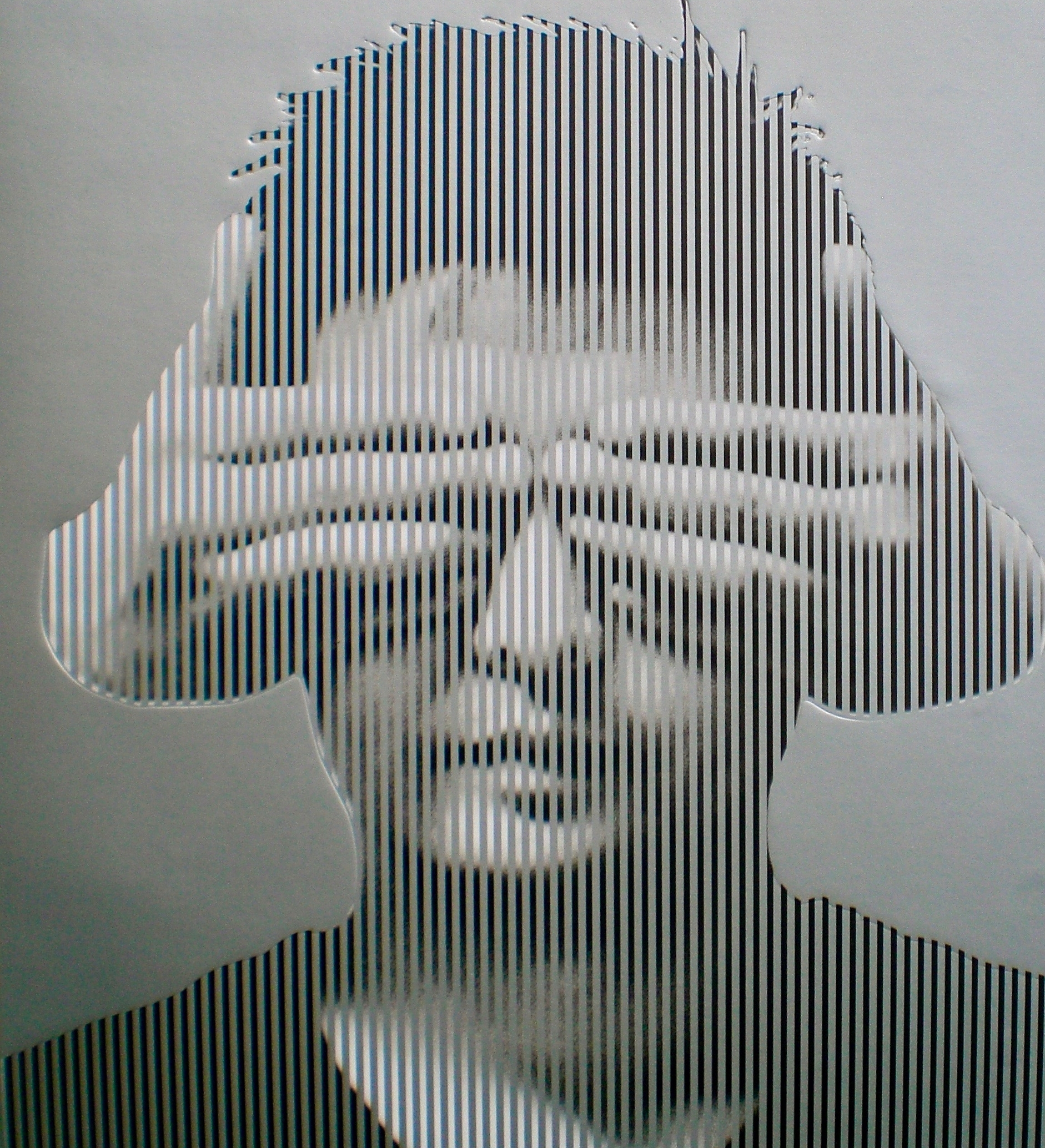 Liu Bolin is confused. The Chinese artist wonders whether he still understands what's happening in his country, with its people, and with himself.
Text: Remko Tanis
in Beijing, China
You can't miss it. It's right there, hitting you in the face. As you stand at the door of Liu Bolin's workspace a short while northeast of Beijing, the sunbeams reflecting off of this 1.20 meter tall stainless steel fist pierce your eyes. The fist slams the ground, aiming to destroy everything and everyone that lands underneath it.
"I'll be working days and nights on something like that," says Liu as he roams around the barrack where he works. He finished the silver fist only recently. "Immediately start doubting whether the work has any effect on what's going on in modern China. That's what confuses me. What am I doing? Why am I doing this? I'm really not sure. I just keep working, as do the masses. I'm no different as an individual artist than they are."
Liu is different, though. At least according to his own parameter. He's the one with a brain full of ideas, a head filled with original creations waiting to be realized. That's something he says many Chinese people lack.
He's also different from some other modern Chinese artists, who use their work to take aim at the Communist Party and its monopoly on power in China.
Liu once was a member of that Party. "For fourteen years," he says. "Eventually I was expelled, because I wouldn't show up at activities. Although I think the symbolism in my work might have played a role as well. The Party felt I slipped out of their control."
The symbolism in Liu's works is hard to miss. Take the two bottle openers he made, for example: one in a female shape, the other male. Both have the communist hammer and sickle growing out of their heads. So far so, kind of, good.
But Liu then made a series of 63 photos, showing him using the hammer and sickle to open beer bottles with. This way, he just wanted to make clear, those strong symbols of communism are finally put to good use.
Much of Liu's work is drenched with references to Party symbols and the Great Helmsman, Mao Zedong. He took photos of people who have a big, red, Communist start painted on them. He made steel statues with sunflowers growing out of them, symbolizing Mao as the sun shining over all Chinese.
Still, Liu wants to make absolutely clear: his work is not a criticism of the Party. "A lot has changed for the better in the past few years," he says. "Before, artists weren't allowed to work in groups and exhibitions were prohibited. That's a lot freer now." (note: this interview was conducted in 2009)
Instead of straight-out attacking the Party, Liu prefers to use his work to pose questions about life in modern China. His works give some gloomy answers.
He points to a group of statues in his studio: 24 men divided in 3 rows. The tallest goes up to 3 meters in height. All of them lack a head, yet they hold their hands as if they're covering the eyes they don't have.
Liu: "You don't need a head in China, because no-one expects you to think for yourself. People don't have original ideas. Everybody follows whatever the majority is doing. No-one speaks from the heart. Individuals become completely faceless in the world's most populated country. Our entire system is build on that. Already at school they teach you not to have your own mind. We're good at covering each other's eyes.
Liu uses a lot of different media to express that faceless sameness. His photos, which he refers to as social sculptures, are especially eye catching. He creates them by first choosing a location which will make people think. Then, he has himself completely painted over, so as to almost disappear in the photo's location.
There's the photo where he stands in front of a bulldozer, for example. He used the bulldozer to symbolize the demolition of many historic areas in China's cities.
The left front wheel of the bulldozer reaches up to his shoulder. From there on down, his body has been painted in the exact same shape and profile of the wheel. His face and hair have the exact same yellow color as the bulldozer's shovel behind his head.
It really takes a few seconds before you realize you're not just looking at a photo of a bulldozer and spot Liu standing there.
Liu took dozens of photos like that one. He virtually disappears standing on a mountain of debris from yet another demolished home, or in front of a wall with the slogan 'Maintain the growth of the Party' on it.
He created one on Tiananmen Square in Beijing, where he positioned himself exactly so that his head would align with Mao's famous portrait hanging on the Gate.
He walks over to the shiny steel statues with the sunflowers. "These statues represent people from different groups in society. But they all have the same sunflower growing out of them, because they're all expected to follow the same idea. The idea of sun Mao. In modern China everything, everyone is the same, the same, the same."
Against another wall in his workspace, there's a row of bronze statues on pedestals. Each of those houses a gas tank, allowing the statues to be surrounded by flames.
Liu: "Fire destroys people the same way lack of own ideas does. In China there are so many people lacking an individual character. We lead prosperous lives, see our country develop and grow at a breakneck speed, but all the while our heads remain empty."
"Myself, I don't know how to define my own life even. We all go to work, go home again, do I don't know what else. We do everything, except think for ourselves. It confuses me. We might as well surround ourselves with flames."